I absolutely love these Bacon and Blue Cheese Burgers.  I generally do not like blue cheese, but for whatever reason the combination of flavors on a burger are absolutely scrumptious.  When shopping for the ingredients to make these burgers, I ran across blue cheese slices.  I was so excited, I have never seen those before.  I would just caution, they sound a whole lot better than they actually work. Nice layers of paper separate the slices, but once you try to take them out, in blue cheese form, they completely fell apart.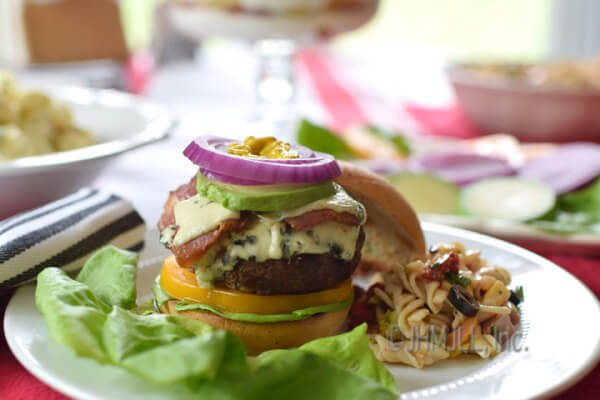 | | |
| --- | --- |
| | |
Place all ingredients (except the blue cheese and bacon)in a large bowl and mix together well. It is best to use your hands to mix the burger mixture together

Divide into 6 equal parts and form patties. I put the burger mix into an english muffin ring, it made perfect, uniform burger patties (we are working on a bun recipe that will use the rings to form the buns)

You can either cook these on the grill, or in the oven on the low broil setting. I made them both ways and they came out perfect both ways.

Cook until you reach your desired temperature

Top each with a slice of bacon and a slice of blue cheese. Cook until melted

Serve on a fresh roll with the toppings of your choice.
This Bacon and Blue Cheese Burgers recipe is gluten free.